Introduction
In this arti­cle we are going to explain what is a vari­able in pro­gram­ming, what types of vari­ables there are, what they are used for and show some exam­ples of vari­ables in C#, in the devel­op­ment of video games with Unity.
MOST SEARCHED VIDEOS FROM MY CHANNEL
What is a Variable in programming?
Vari­ables are used in many dis­ci­plines, per­haps the most com­mon exam­ple is the "X" vari­able in math­e­mat­ics, which is gen­er­al­ly an unknown val­ue that we must find. In pro­gram­ming, vari­ables are a some­what dif­fer­ent concept.
To under­stand the essence of com­put­er vari­ables we need to know a lit­tle about com­put­er mem­o­ries.
Com­put­er mem­o­ries store infor­ma­tion in the form of bit reg­is­ters (i.e. sets of val­ues that can be 0 or 1). This infor­ma­tion will be inter­pret­ed and used by the com­put­er pro­grams. Com­put­er mem­o­ries con­tain many of these reg­is­ters, so each reg­is­ter has an address that allows it to be found, read and written.
Then we can say that a vari­able is a piece of infor­ma­tion stored in the mem­o­ry of the com­put­er. The iden­ti­fi­ca­tion name that we assign is asso­ci­at­ed with the address with­in the mem­o­ry and the val­ue we save is the infor­ma­tion con­tained in the variable.
Examples of variables in programming
The vari­ables can be of dif­fer­ent types, depend­ing on the infor­ma­tion we need to store. In fig­ure 1 we see dif­fer­ent types of vari­ables and their assigned value.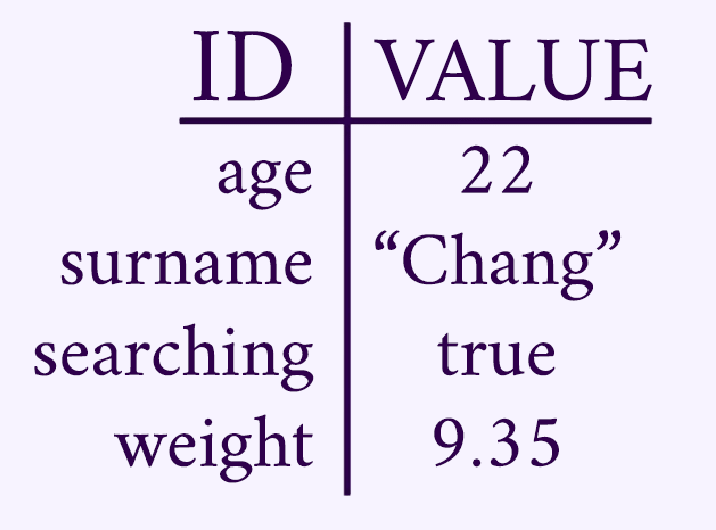 The vari­able "age" con­tains the val­ue 22, this means that when we use the word "age" in our pro­gram, indi­rect­ly we will be using the val­ue 22.
If we do the oper­a­tion "2*age" (2 mul­ti­plied by age) it will have a result of 44.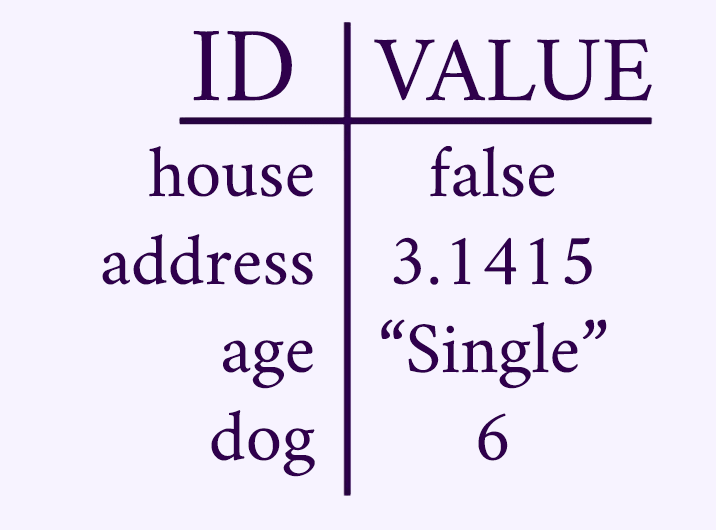 Choosing Names for Variables
Fig­ure 2 shows vari­ables that have been defined with con­fus­ing names. This hap­pens very often when we want to solve things fast. It is impor­tant to choose rep­re­sen­ta­tive names of the vari­ables, because after a while we for­get what we did and when we have to make changes it is dif­fi­cult to understand.
The vari­able "house" in fig­ure 2 has the val­ue "false". This vari­able could have been used, for exam­ple, to know if a char­ac­ter is in his house and if it is true to restore his health.
When putting a con­text it makes sense that "house" is false, this means that the char­ac­ter is not at home. How­ev­er, it may take us a while to fig­ure out what the func­tion of the vari­able was.
We can save the effort by sim­ply defin­ing the vari­able as for exam­ple "char­ac­terAtH­ome". Now the name of the vari­able sug­gest us its function.
Types of Variables in Programming
Let's know the most basic vari­ables that we are going to use to solve our prob­lems. The exam­ples are tak­en from the Labyrinth Game Series (click on the link to go to the main page of the series).
Vari­ables type Boolean (bool)
The bool vari­ables are named after the Boole Alge­bra devel­oped by math­e­mati­cian George Boole. They can be found in 2 pos­si­ble states: True or False. We use them to solve log­i­cal operations.

In the method seen in fig­ure 3, we define the bool "valid­S­e­lec­tion" and ini­tial­ize it with the false value.
Inside the while loop you select a ran­dom piece from the labyrinth and check if it is far enough from the character.
If the labyrinth piece is very close to the char­ac­ter, valid­S­e­lec­tion remains false and the pro­gram choos­es anoth­er labyrinth piece again.
If the labyrinth piece is far enough away, valid­S­e­lec­tion will become true and the pro­gram will go ahead using that piece.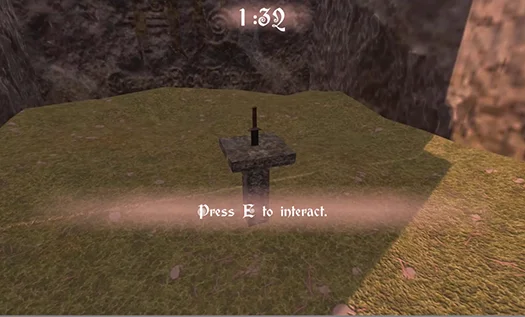 Inte­ger type vari­ables (int)
The "int" type vari­ables do not serve to store pos­i­tive and neg­a­tive inte­ger values.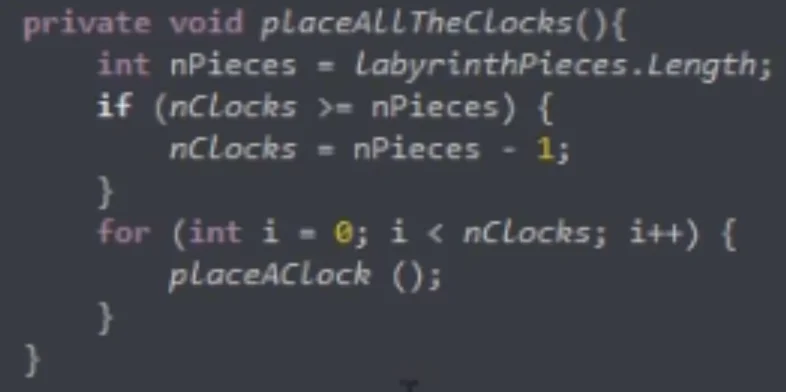 In the method shown in fig­ure 4, you see sev­er­al inte­gers, "nPieces", "labyrinthPieces.Length", "nClocks", the num­bers 0 and 1 and the iter­a­tion vari­able "i".
Let's take the case of the iter­a­tor vari­able "i", it is declared and ini­tial­ized with val­ue 0 inside the for loop and it is used to exe­cute the "placeA­Clock" method as many times as the val­ue of nClocks is.
For exam­ple if we want to have 10 clocks in the sce­nario, we make "nClocks" worth 10, then the for loop will exe­cute 10 times the "placeA­Clock" method.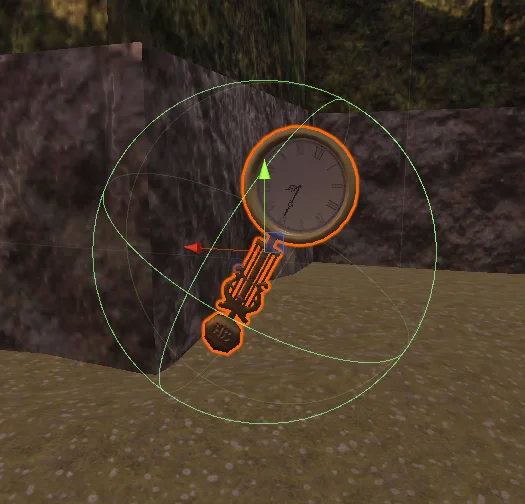 Float Vari­ables
Float­ing point vari­ables are used to rep­re­sent real num­bers. That is to say, besides pos­i­tive and neg­a­tive inte­gers we can rep­re­sent num­bers with dec­i­mal part. This type of vari­ables can serve us for exam­ple to rep­re­sent phys­i­cal magnitudes.

In the video of the Hal­loween 2018 spe­cial we defined a script for the NPC Lucy, a ghost that dwells in the labyrinth. Lucy chas­es the char­ac­ter with some speed.
To solve this behav­ior we make a lin­ear inter­po­la­tion between the posi­tion of the char­ac­ter and Lucy's posi­tion using as para­me­ter the float "veloc­i­ty" mul­ti­plied by the float "Time.deltaTime".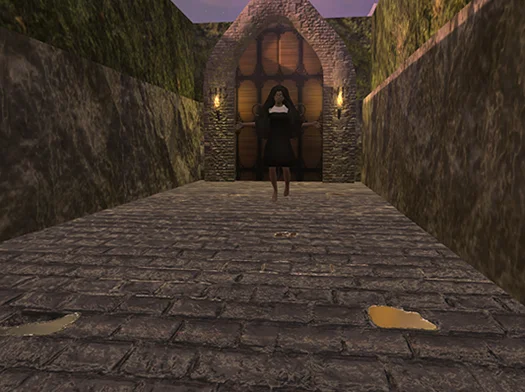 String Vari­ables
Strings are not a vari­able in itself, but instances of a class, how­ev­er many devel­op­ment envi­ron­ments allow us to treat strings as prim­i­tive variables.
We use them to store text.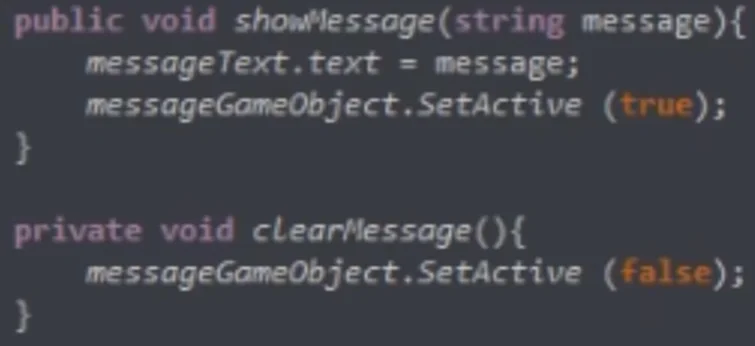 The "showMes­sage" method seen in fig­ure 9 belongs to the script "UIMan­ag­er", this method receives as a para­me­ter a string called "mes­sage" and is respon­si­ble for dis­play­ing it in the user inter­face, as illus­trat­ed in fig­ure 10.
Conclusion
In this arti­cle we saw what a vari­able is in pro­gram­ming and how we can use it to rep­re­sent dif­fer­ent types of data.
A vari­able in pro­gram­ming is a ref­er­ence to a space in the mem­o­ry in which a data is stored. We can assign it the name we want and when using that name we will be refer­ring to that data stored in that par­tic­u­lar part of the memory.