I want­ed to share a project I did long before I start­ed pro­gram­ming and the world of video games. It's a com­put­er cab­i­net made in mdf.
History
I had been mak­ing things in mdf, such as sets of chess and box­es that my girl­friend had dec­o­rat­ed with decoupage, I liked quite and had ease. One day I was in chem­istry class in the uni­ver­si­ty and I showed a friend the lit­tle jobs I had done. He was inter­est­ed and told me that he need­ed a tem­po­rary wood­en box to cov­er his com­put­er because he had not yet got a cab­i­net and his com­put­er cov­ered it with a card­board box.
MOST SEARCHED VIDEOS FROM MY CHANNEL
Fig­ure 1 shows a struc­ture for the moth­er­board and pow­er sup­ply that he made.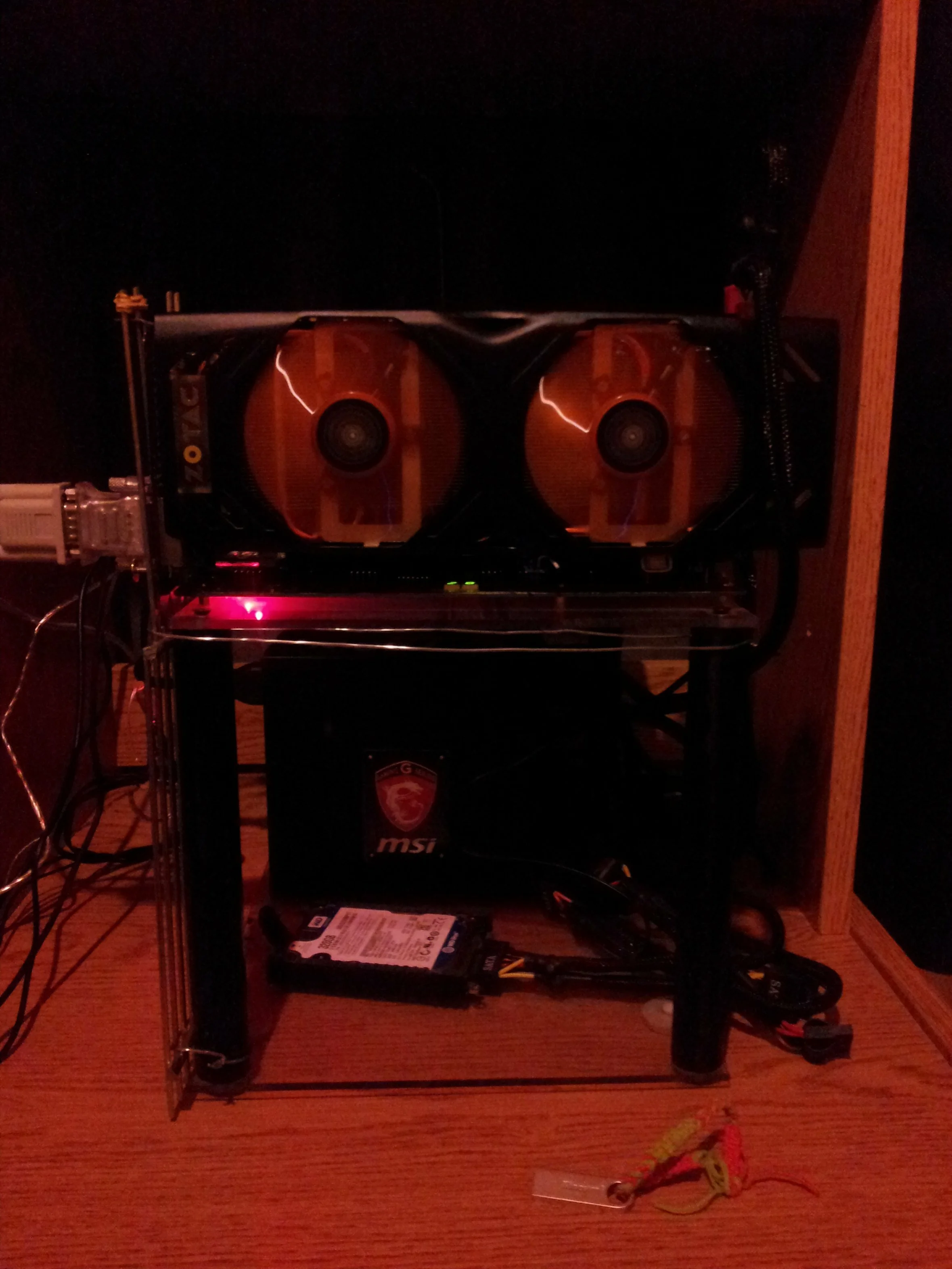 So the idea was to make a box con­tain­ing that to pre­vent it from get­ting dusty.
Design of the MDF PC case
My friend made a design that seemed con­ve­nient for ven­ti­la­tion and from that I made a 3D design using Solid­Works (at that time I didn't know Blender), that was my first approach with 3D mod­el­ing with­out count­ing that when I was a kid I made maps for Counter Strike using 3D Entity.
With the 3D design we were able to make some ren­ders and adjust it until it became as my friend want­ed. From that 3D design I made a plan of 6 views for the cuts of the pieces (I believe that by that time I had also made tech­ni­cal draw­ing in the university).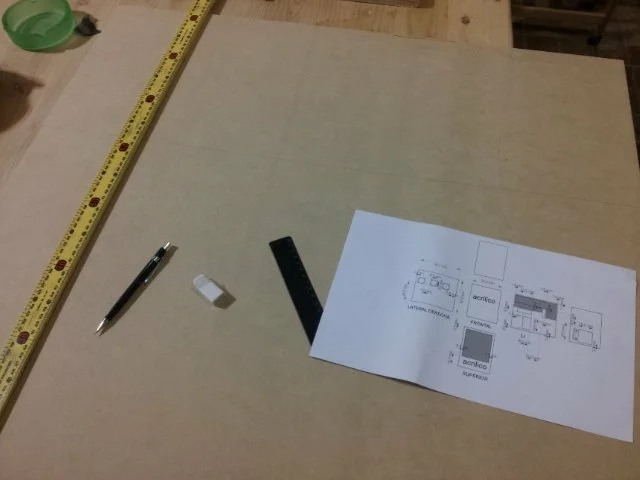 Tak­ing as base the plans, I drew the six pieces on a plate of mdf of 5 mm of thick­ness, in this part the mea­sures were tak­en well so that every­thing is to square.
I made all the holes in the inter­nal cuts so that the sheet of the jig­saw enters.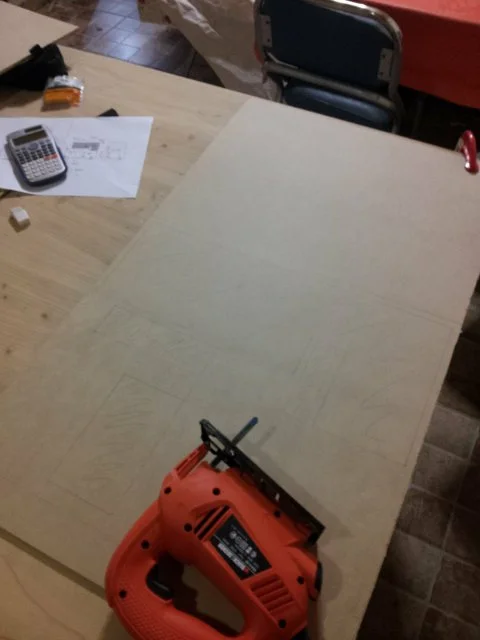 I made the sim­ple cuts using a hand jig­saw and the pre­cise cuts with a bench jigsaw.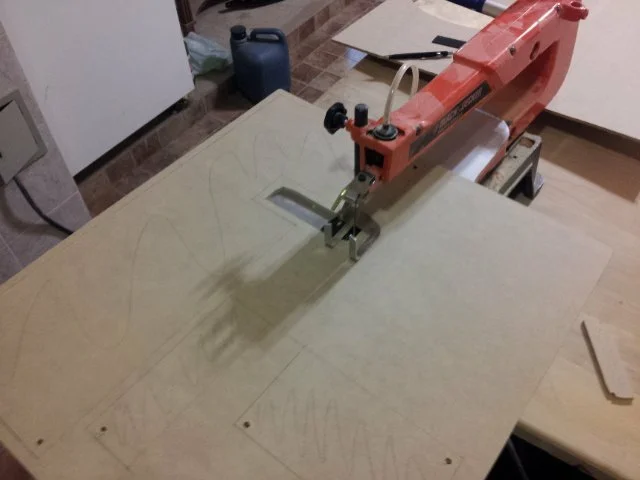 The cuts were made to mea­sure, only not so straight because they were made by hand.
Fig­ure 8 shows that the struc­ture was already tak­ing shape.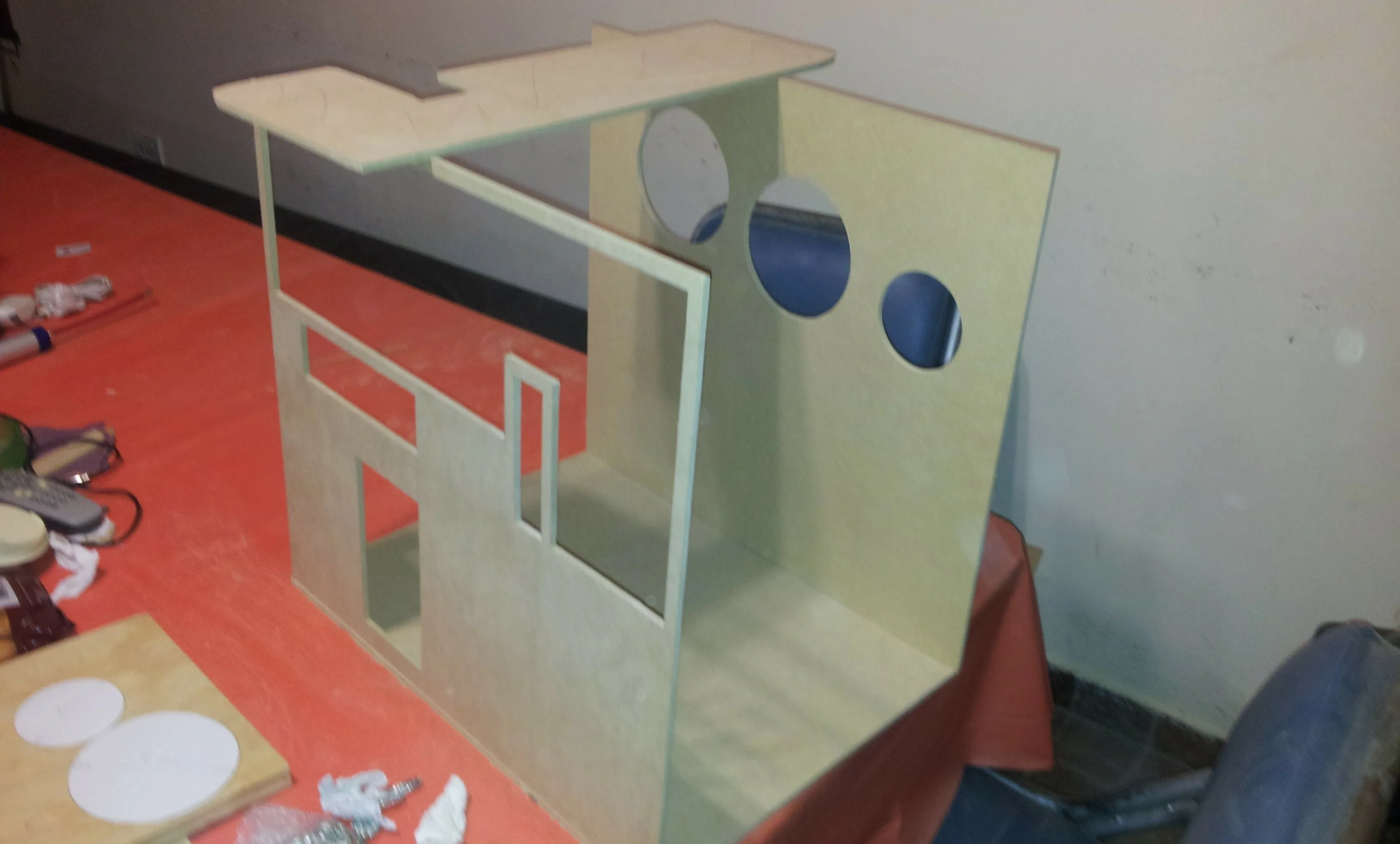 I glued the three pieces using glue and then applied a press so that the struc­ture is very firm, then the press­ing tools are observed.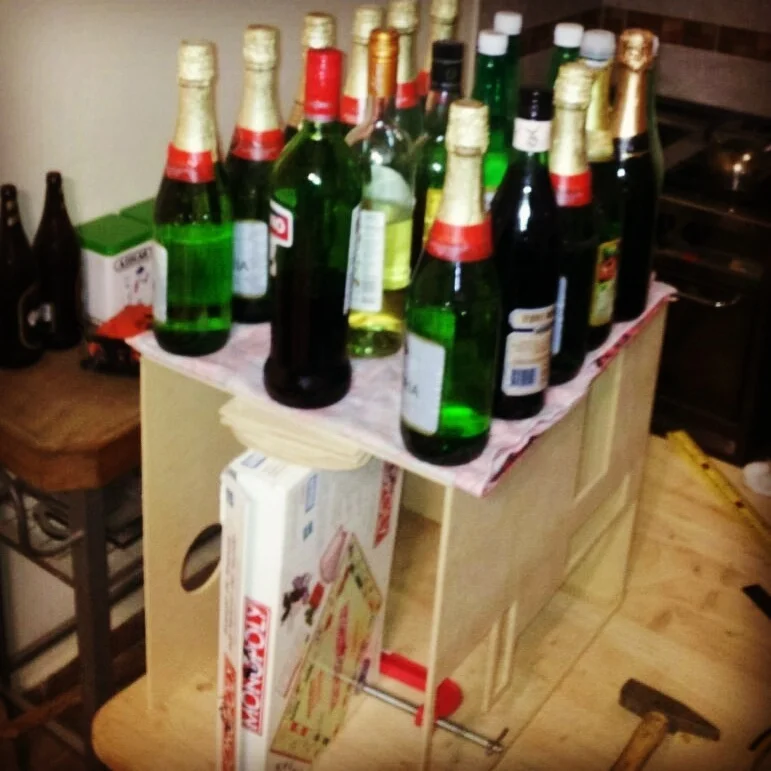 Notice how the red met­al press (a press itself) is in charge of keep­ing Monopoly's box armed, so the struc­ture didn't col­lapse under its own weight.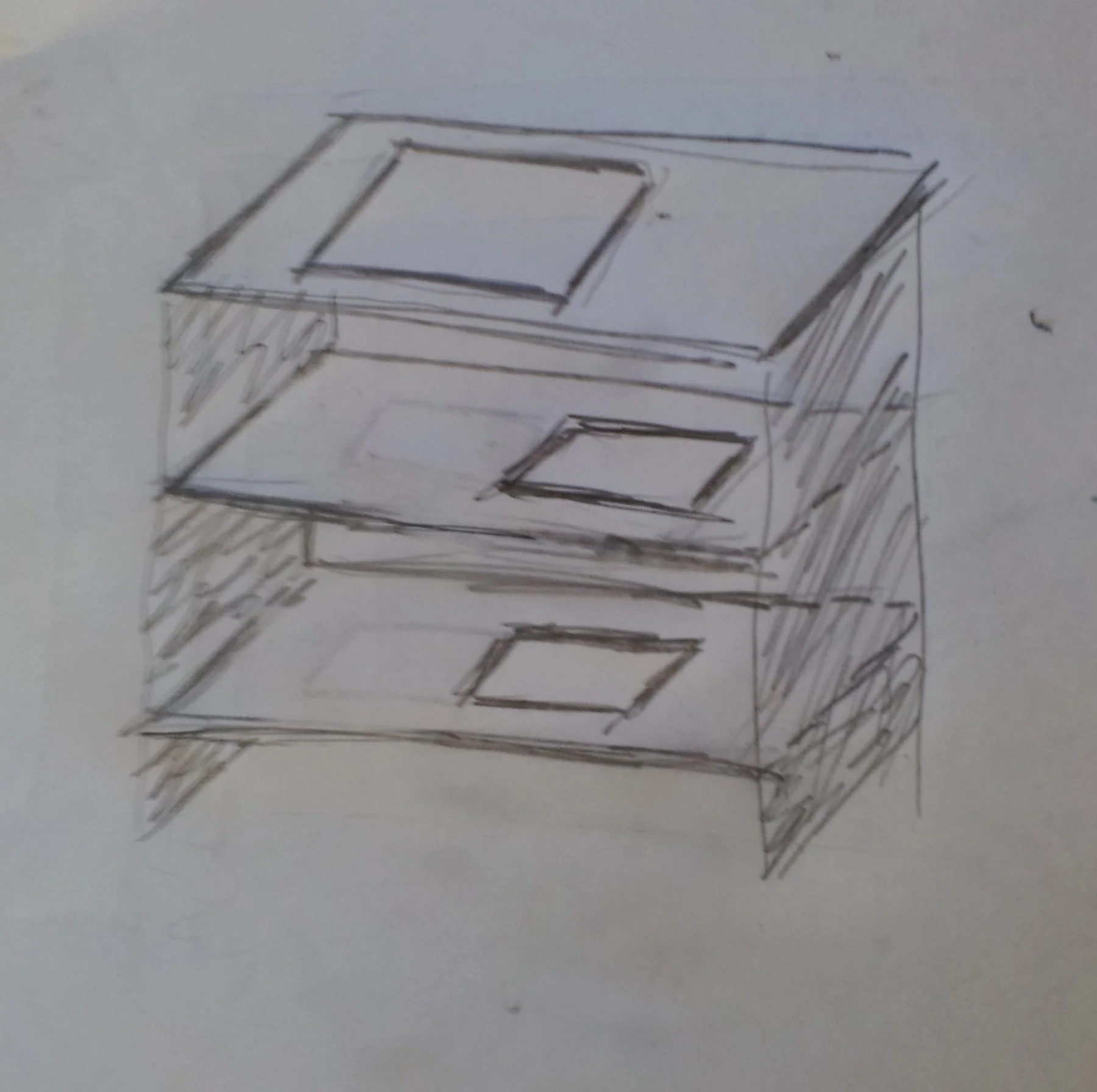 For the disk bays we made a three-storey struc­ture, in the fol­low­ing fig­ure the idea for the design is shown.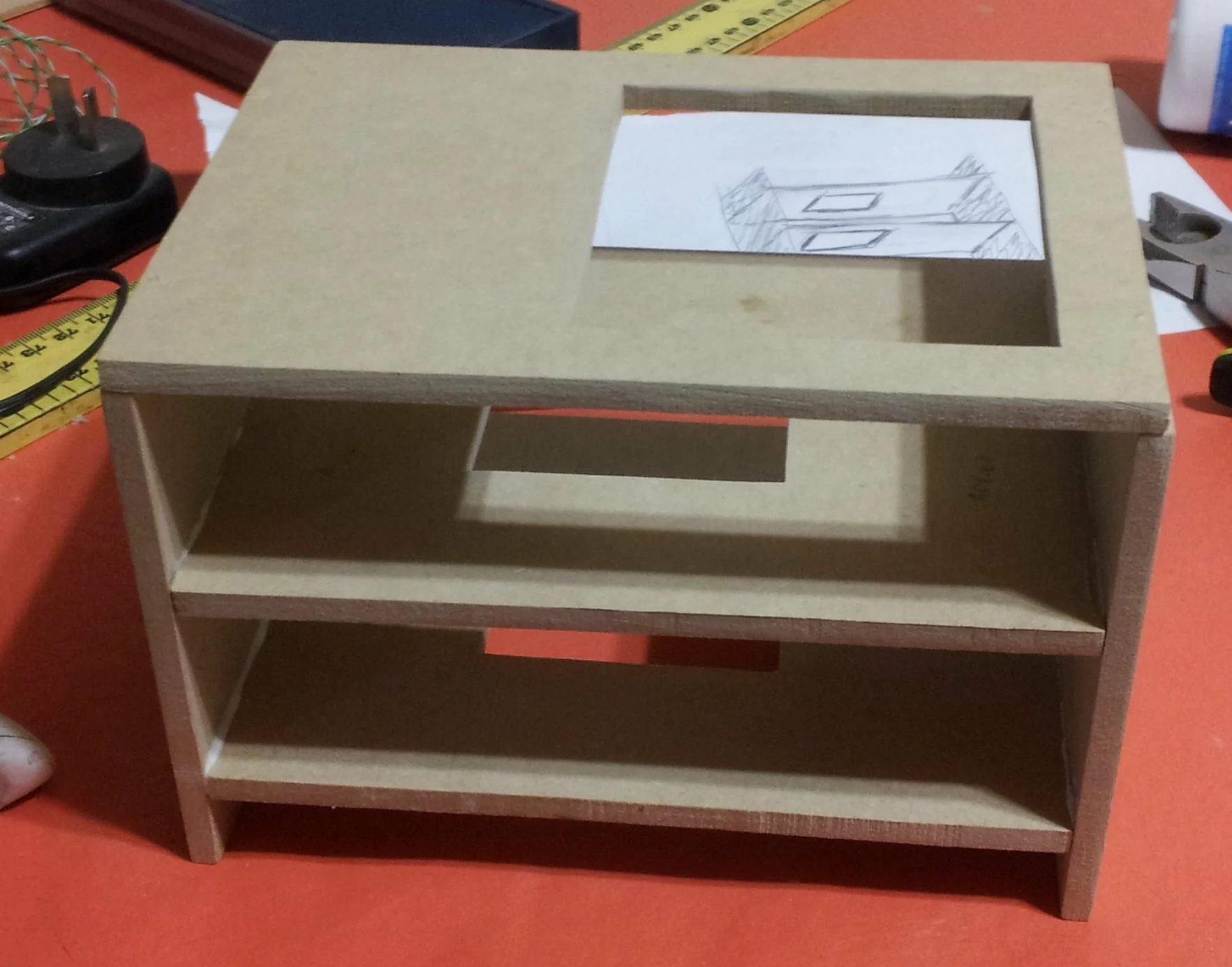 The piece was also built with 5 mm mdf and a lay­er of red acrylic paint.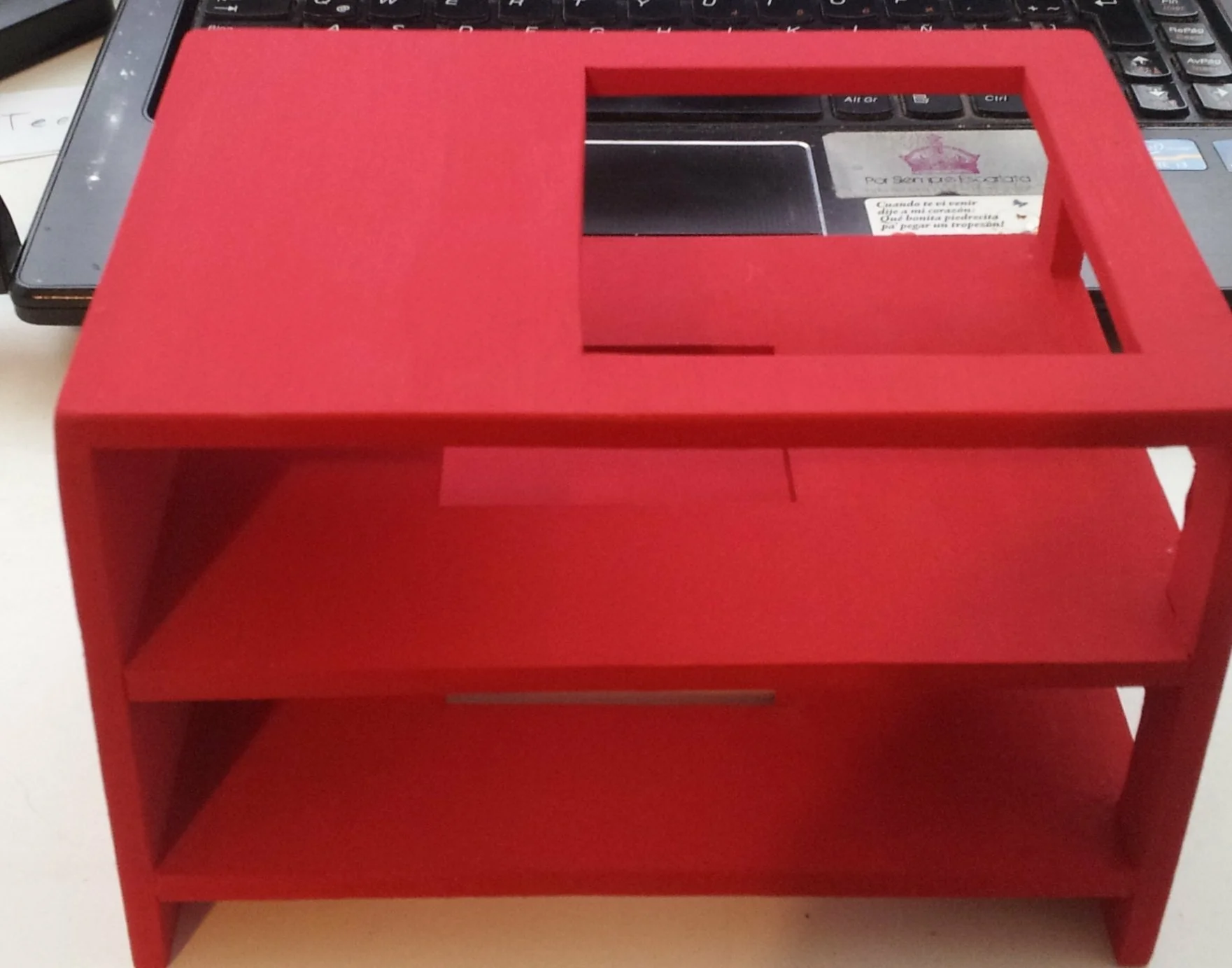 Then we start­ed to think about the dec­o­ra­tion of the box, because it had to have even a coat of paint. At that time I didn't know as much about com­put­er com­po­nents and brands as I do now, how­ev­er I pro­posed some designs that he liked.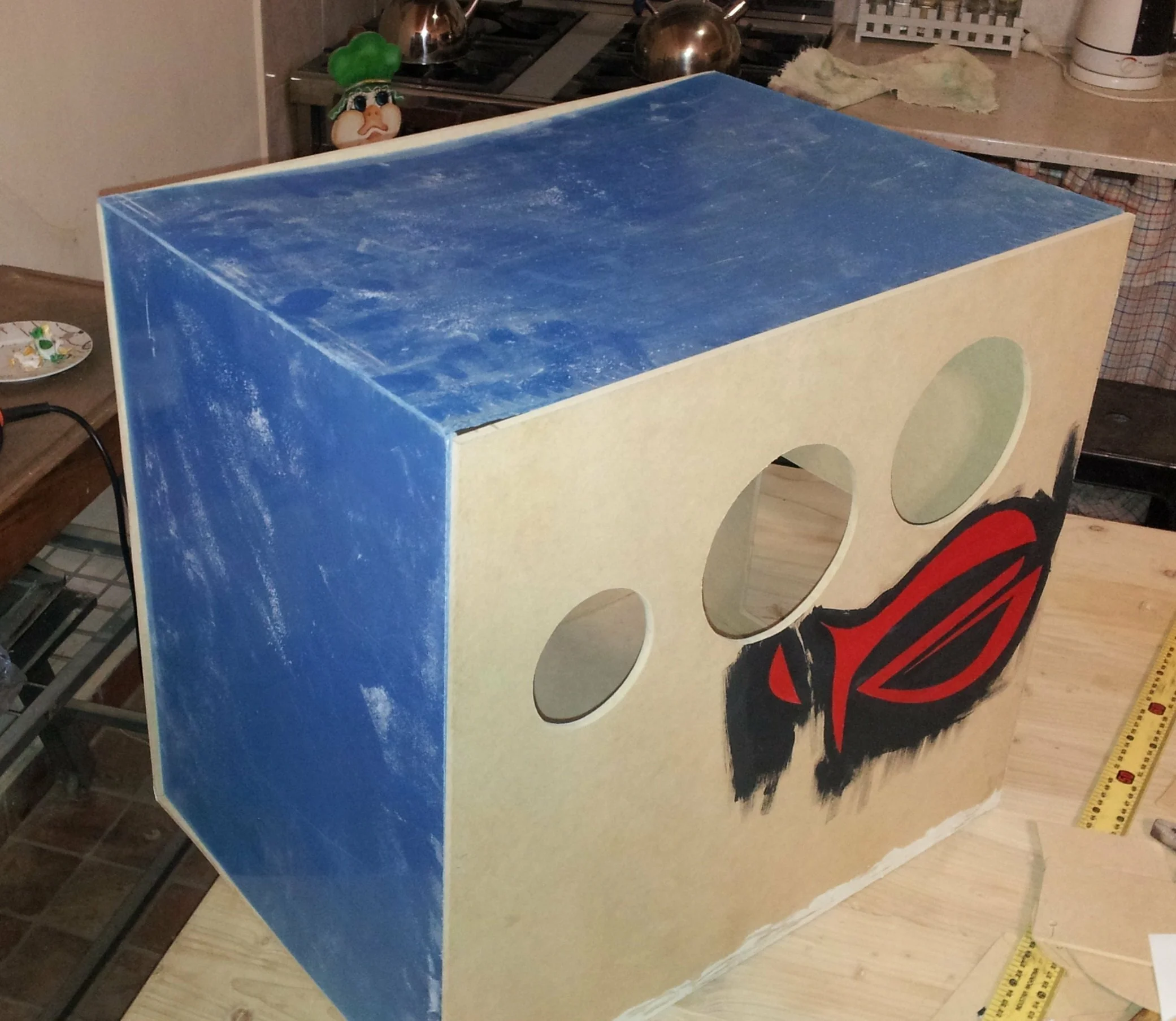 The Repub­lic of Gamers logo for an MSI board, I know.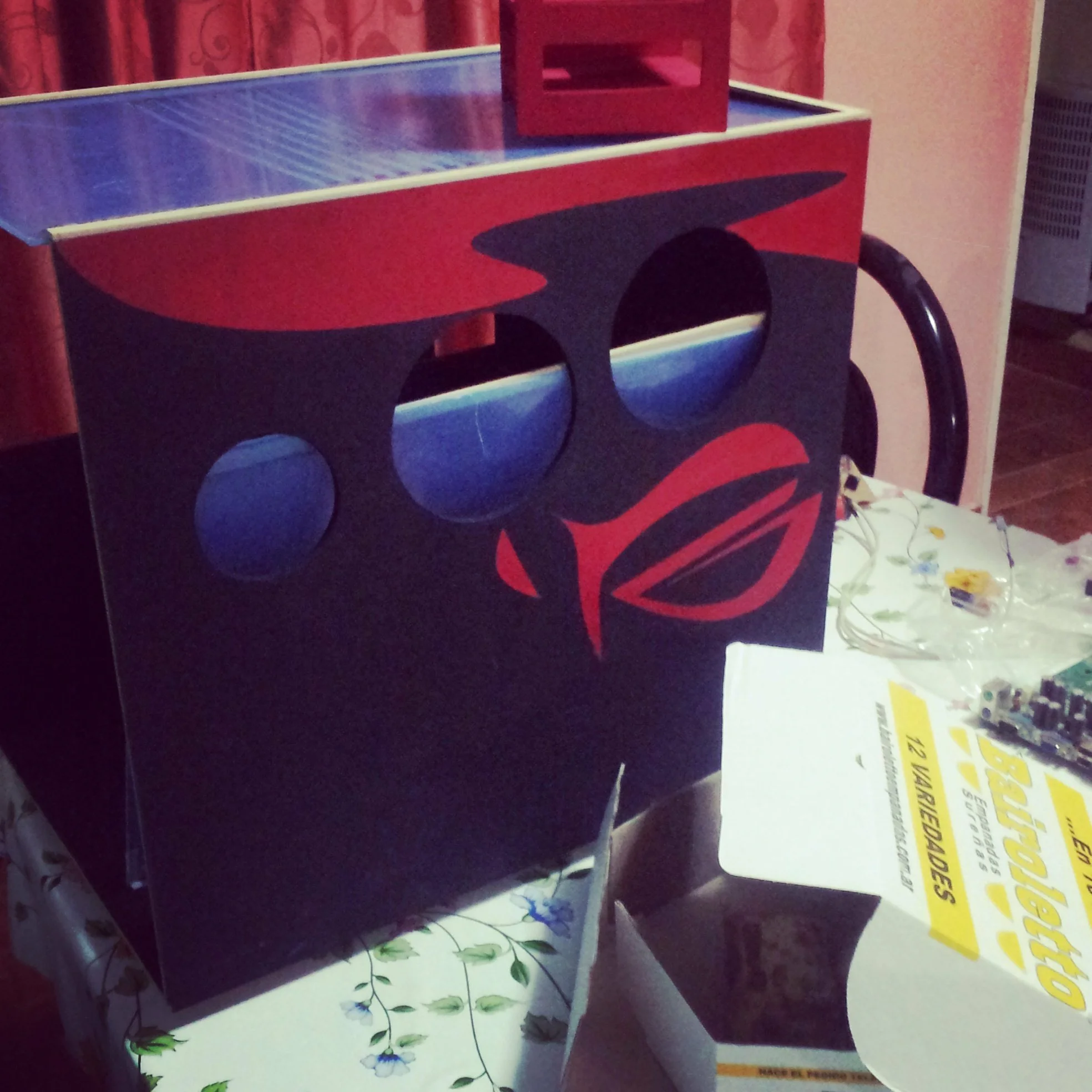 We had bought some meat pies to eat and it was get­ting late.
Here you can see that I'm putting the fin­ish­ing touch­es. Our mdf cab­i­net was almost finished.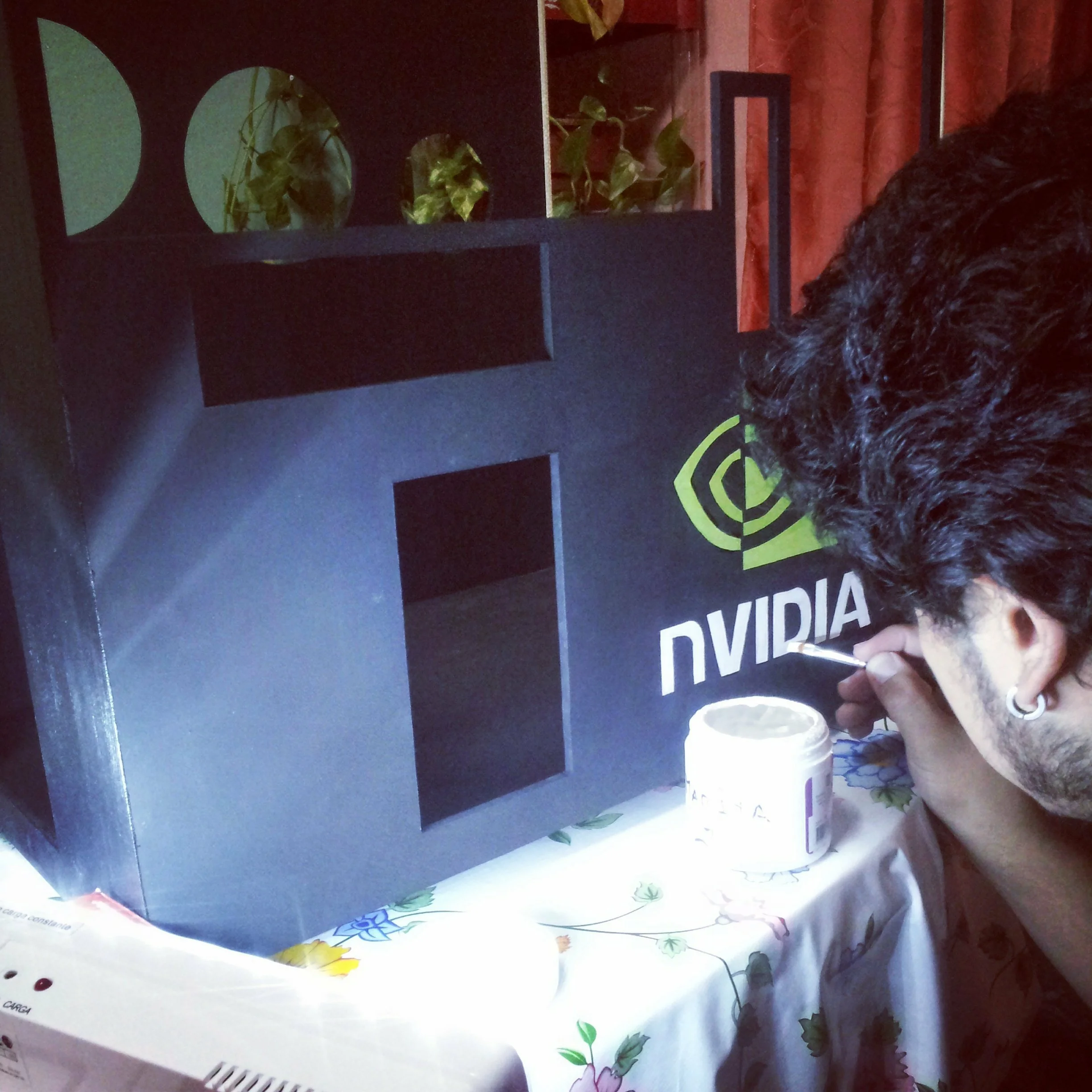 We screwed the cool­ers in place, placed the struc­ture with the moth­er­board, the foun­tain, the disks inside and final­ly the two pieces of acrylic that went into grooves. This was the final result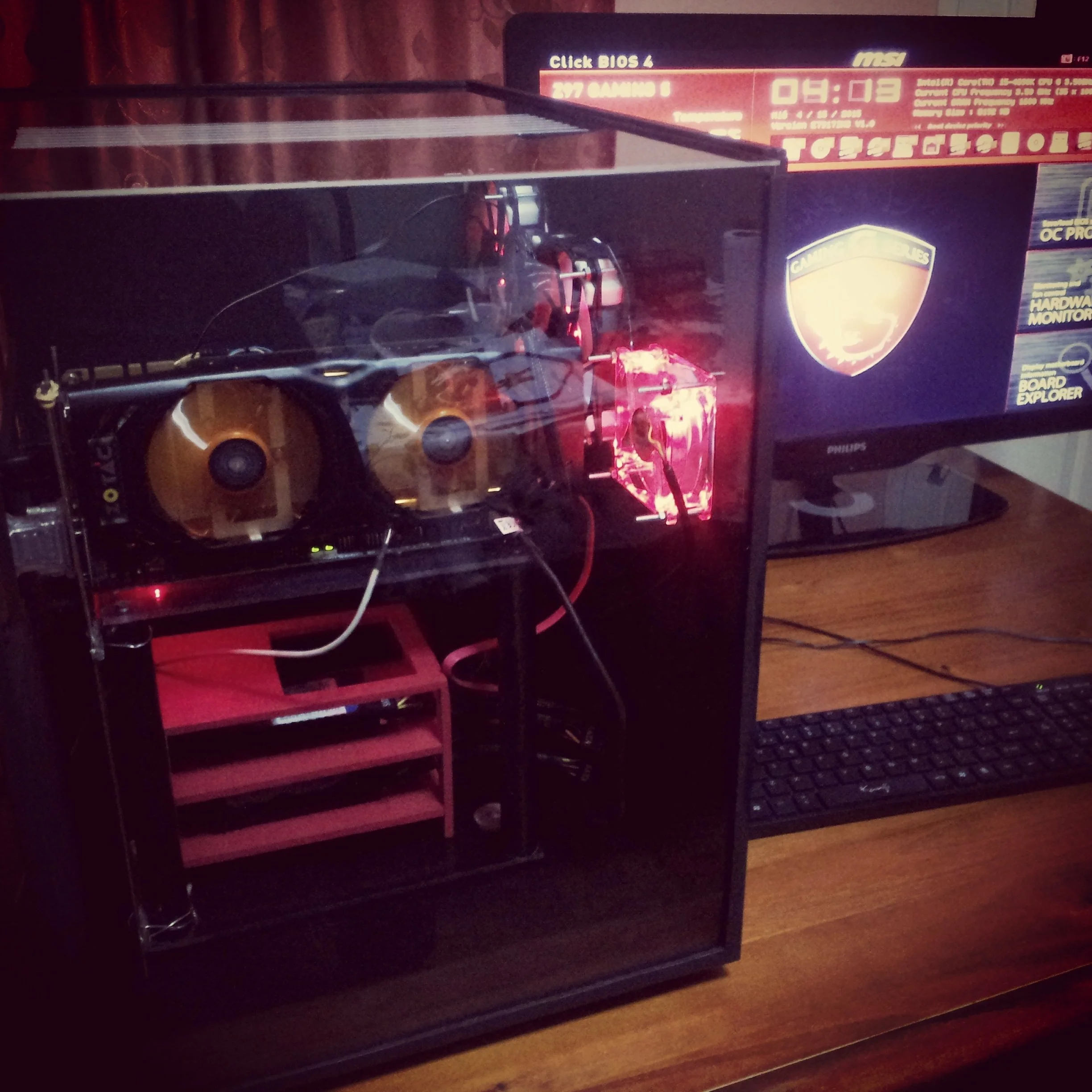 Conclusion
We man­aged to fin­ish the mdf cab­i­net and my friend had a small box to house his com­put­er. It was tem­po­rary until he final­ly got a PC cabinet.
In my opin­ion the dimen­sions were quite exag­ger­at­ed, but my friend was wor­ried (and right­ly so) about refrig­er­a­tion. In a met­al cab­i­net the heat is part­ly dis­si­pat­ed by the ther­mal con­duc­tiv­i­ty. In addi­tion it pro­vides pro­tec­tion to the cir­cuits against elec­tro­mag­net­ic noise.
How­ev­er, if we take into account the fact that I used to cov­er the com­put­er with a card­board box, the mdf cab­i­net was a small improvement.