3D Kitchen Elements to Download – Unity
Introduction
In this article there are 3D models of kitchen elements to download and use in your projects at Unity.
For each model there are representative images rendered in Blender 2.8 and a brief description of the model, indicating topology data and materials.
The models are in .fbx format and can be imported directly into the Unity engine.
You can use these models to build prototypes quickly. I hope you find them useful.
Pot
Vertices: 146 – Faces: 144
Gas Range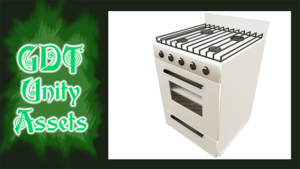 Vertices: 663 – Faces:  527